Rockport, MA is home to one of Cape Ann's most beloved and iconic landmarks, Motif No. 1. Originally a fishing shack (built in the mid-to-late 1800s and rebuilt after it was destroyed in the Blizzard of '78), the quaint but humble exterior and maritime setting made it a popular subject for artists from the local art colonies starting almost as soon as the building was erected. The very name of "Motif No.1" is a nod to the shack's ubiquity and was coined by the painter Lester Hornby (1882–1956), whose students often depicted the building in their works. Since then, untold numbers of artists and photographers, both professional and amateur, have captured Motif No. 1's likeness. The shack is represented on postcards, t-shirts, phone cases and all sorts of other memorabilia and has become, to put a contemporary spin on it, "famous for being famous." Learn more about Motif No. 1's historical popularity.
Motif No. 1 is located on Rockport's historic Bradley Wharf and its unassuming representation of maritime New England, along with its fame, still draws large crowds of admirers. Over the years, Motif No. 1 has only grown in popularity and to celebrate, Rockport hosts an annual "Motif No. 1 Day," which includes films, poetry, dance, music, art-making activities, historical presentations and more, along with a 5k road race and fun run. This year, Motif No.1 Day takes place on Saturday, May 18, 2019 in downtown Rockport. More information can be found at: http://www.rockportartfestivals.com/motif-no-1-day.
Other interesting Motif No. 1 depictions:
Early 1960s postcard, courtesy of
VintageRockport.com
.
Rockport native Andrew Stanton, who directed Pixar's
Finding Nemo
, found a way to incorporate Motif No. 1 into the film.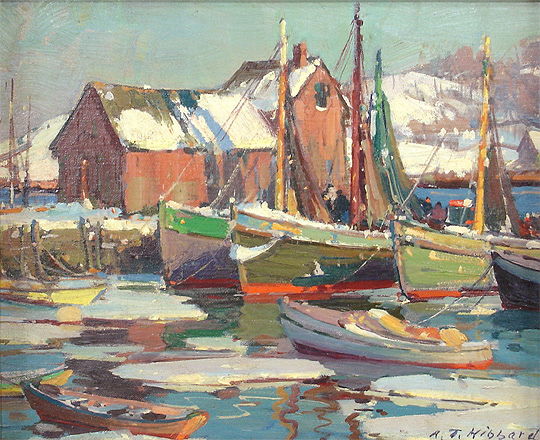 Harbor Rockport Motif #1 Painting by A. T. Hibbard
| | |
| --- | --- |
| ​ | Atlantic Vacation Homes (AVH) is the premier vacation home rental & real estate company on Boston's North Shore, with over 30 years of creating dream vacations for our guests. Situated a little more than a half-hour's drive from downtown Boston, the North Shore is the ideal spot for an east coast vacation. We specialize in coastal vacation rentals for families, large groups, and anyone else who wants a beach vacation in Massachusetts. |