The lead-in to the holidays tends to be a mad rush, and planning meals for holiday get togethers can add to the stress. Here are ten simple recipes that we have collected that will make you look like a rock star in the eyes of your family and friends, who will be begging for seconds (if not thirds).
Slow Cooker French Toast - With just a little prep the night before, this is a surefire hit for a late-morning breakfast or brunch.
Sweet and Sour Brussels Sprout Salad - Pro tip: Buy a bag of pre-shredded brussels sprouts to make this already simple dish even simpler.
Spinach, Bacon, and Goat Cheese Frittata - Yum, yum, yum! This is also the kind of recipe that easily forgives substitutions. You can remove the bacon or change out the cheese and add other veggies if you wish. (Photo: Cooking Channel)
Brie with Jeweled Fruit Compote - This one looks really impressive, but it's so easy, it will create a scandal if your guests find out!
Mexican Bean Salad - This is one of those "a can of this, and a can of that" recipes that tastes like someone's grandmother spent weeks preparing it. (Photo: AllRecipes.com)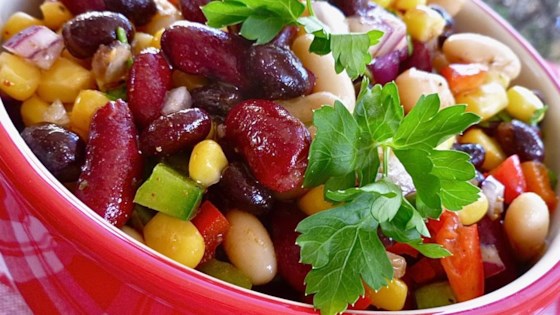 Easy Baked Salmon - The simple but yummy marinade is what sets this dish apart.
Eggnog Monte Cristos - An unusual twist on a classic sandwich. (Photo: Food Network)
Apple Butter Pork Loin - This is a cozy and comforting dish for a cold winter's night.
Holiday White Chocolate Popcorn - A very easy and delicious treat that will get rave reviews.
Chocolate Tofu Pie - Don't be scared. This no-bake pie is AWESOME. Your kids (or skeptical friends) would never guess that silken tofu is the key ingredient. (Photo: Kitchen Chick)
​
Happy holidays to you and yours from all of us at Atlantic Vacation Homes!
| | |
| --- | --- |
| ​ | Atlantic Vacation Homes (AVH) is the premier vacation rental & real estate company on Boston's North Shore, with over 30 years of creating dream vacations for our guests. Situated a little more than a half-hour's drive from downtown Boston, the North Shore is the ideal spot for an east coast beach vacation. We specialize in vacation rental homes for families & large groups as well as anyone else who wants to vacation near the shore. |