Did you know that Cape Ann is a bird watching paradise, especially in the off-season? Even the middle of winter is a wonderful time to catch sight of the wide variety of migrating waterfowl and coastline birds that visit our rugged shores each year. In addition to a variety of gulls, avid birders keep their eyes open for such species as Harlequin Duck, King Eider, Pacific Loon, Northern Gannet, Horned Grebe, Great Cormorant, Common Eider, Common and Red-throated Loons. As the seasons turn, as many as 27 species of shorebirds come through Cape Ann, either as their final destination or as a pit stop on their migratory paths north and then south again.  
A Horned Grebe. Photo: Pixabay
There are many beaches, parks and reservation lands along the North Shore that are considered "hot spots" for bird watching:  
Rockport, MA: Halibut Point State Park has 2.5 miles of trails around the former Babson Farm Quarry and down to the rocky shore.
Gloucester, MA: Ravenswood Park has 10 miles of nature trails, criscrossing 600 acres.
Gloucester, MA: Jodrey Fish Pier is a natural magnet for all types of shore birds, particularly gulls.
Gloucester, MA: The Bass Rocks area of the Back Shore is a good birding spot.
Newburyport, MA: Mass Audubon's Joppa Flats Education Center offers a variety of birding programs, including the "Superbowl of Birding" and a "Birder's Certificate" course. 
Plum Island, MA: Parker River National Wildlife Refuge offers a checklist of refuge birds to find on your self-guided tour.
Ipswich, MA: Crane Beach has a nationally recognized shorebird protection program and is one of the world's most important nesting sites for piping plovers.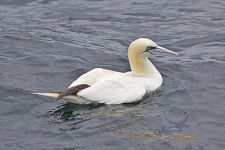 An adult Northern Gannet at rest on the water. Photo: 7 Seas Whale Watch
In late winter each year, 7 Seas Whale Watch and the Cape Ann Chamber of Commerce co-host a Winter Birding event. In 2017, the Winter Birding Boat Trip will be on March 11. Tickets are $75 per person and include a four-hour excursion aboard 7 Seas' flagship vessel, the Privateer IV, along with expert guides who will help identify the winter sea birds you will observe.
​For information on the most recent bird activity in the area, the American Birding Association maintains a very active list of reported Bird Sightings in Massachusetts.
Are you planning a trip to Cape Ann to see the birds?
Book a Cape Ann vacation rental stay today!

Call our Guest Experience Specialists toll-free at (888) 973-3864 or book online.
Find a Vacation Rental
| | |
| --- | --- |
| ​ | Atlantic Vacation Homes (AVH) is the premier vacation rental & real estate company on Boston's North Shore, with over 30 years of creating dream vacations for our guests. Situated a little more than a half-hour's drive from downtown Boston, the North Shore is the ideal spot for an east coast beach vacation. We specialize in vacation rental homes for families & large groups as well as anyone else who wants to vacation near the shore. |